Every serious investor should at some point consider adding gold or other valuable metals to their investment portfolios as they are great at protecting investments against inflation. 
These precious metals are also powerful diversification tools. Watch this video to learn more about portfolio diversification and whether or not it is something you should do. 
Despite these, one thing that people fear about physical gold investments is that buying the asset is complicated. This is, however, not so true. Buying physical precious metals isn't as complicated as you think. But, if you aren't careful, you might end up in the wrong hands and end up being scammed. 
To avoid this, you need to consider more than one way to buy precious metals and then decide on the way you think would be the best and safest way. In this article, we will be discussing some common ways to buy gold, alongside their pros and cons to help you make a good and informed decision. 
1. Local Dealers
Most people consider buying physical metals from local dealers as so old-fashioned it can be considered obsolete. But, we do not see this as entirely true; in fact, you stand to gain several benefits when you buy your precious yellow metal from local dealers. 
Pros
Some of the benefits you stand to gain by buying from local dealers include: 
You get to see and then examine the product before you buy it:

this way you can be sure of its authenticity among other things before you pay money for it. 

Do not need to pay shipping or delivery fees:

because you would do the transaction physically, you will not have to bother about paying shipping or delivery fees because you can pick up the asset yourself. 

Get to meet with the seller:

this can help you to create a bond with the person selling the asset, and you can get several other benefits from this. This includes being able to get a bargain, especially if you are buying a large quantity. Also, when you create this relationship, you can become a repeat buyer and most sellers offer the best deals to their repeat buyers. 
Cons
Some of the cons of buying from local dealers include: 
You may pay more for the asset and this would ultimately reduce your buyback profit. 

The dealer may not have enough liquidity for a big buyback. 

The inventory of a local dealer may be limited. 
2. Online Dealers
With technology and science, the way we do things has radically been revolutionized. Now, you can buy anything from anywhere in the world with one click on the internet. Gold is not left out from the wonder known as online shopping that keeps growing in popularity with each passing day. 
There are two main reasons investors prefer buying their precious metals online rather than from local stores and these are cost-effectiveness and convenience.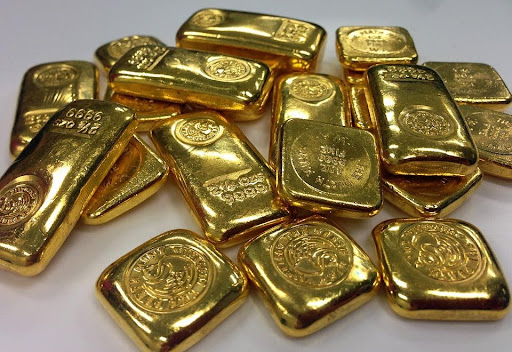 Pros
Below are some of the advantages of buying your precious metals from online sellers:
It is not complicated but rather quite easy:

it usually is as easy as buying a bag or shoe online. 

Buying online can give you round-the-clock access to a trading account:

with this, you can purchase, sell, store, as well as even ask for the precious metal to be delivered to you right from your home. 

You can also get the asset at a much cheaper price than you would get when buying from a local seller, this is because online sellers typically offer premiums. 
Cons
The following are some of the disadvantages of buying precious metals from online sellers: 
You can fall prey to shady dealers that will end up not delivering the product that you pay for. 

You would be required to pay additional fees such as insurance and shipping fees. 

Your payment has to clear before your order can be shipped to you.
3. EBay
Don't act so surprised, you read us just right, you can buy your precious metal from eBay. True, this method is somewhat unusual but it is not unheard of. A lot of veterans in this business can give two or more positive testimonies about buying gold off this site. 
We believe you are already familiar with this site so navigating it to buy gold should be simple. However, this is not the safest way to buy gold, so if you are new in this business, you should not take chances. Below are some of the major advantages and disadvantages of buying gold from eBay. 
Pros
It is convenient and many sellers on the site offer shipping for free. 

You won't be required to pay the sales tax of your state. 

For those that know how to navigate it, it is one of the best sites to get what you want quickly and easily and at the best rate. 
Cons
It's not the best choice for inexperienced buyers, it suits veteran investors better. 

There are several imitations, substandard products, and counterfeits on the site. 

Prices can be manipulated to the advantage of dishonest sellers. 
At the end of the day, the big question of what's the best way to buy gold can only be answered conveniently by the person looking to buy. All the ways mentioned so far have both their advantages and disadvantages. It is now left for the buyer to consider their needs and then decide on the method that best suits these needs. 
Conclusion
There isn't just one way to buy gold. As an investor looking to start a gold investment. You can buy the asset from a local dealer, an online seller, and even from eBay. All these methods have their pros and cons so you simply need to properly analyze them so you can decide on the one that will work best for you. 
READ ALSO: Profitable Business Ideas